Custom Stages - Wafer Stages & Precision Motion Control
XYZ Stage and Rotary Stage Motion solutions customized for a wide range of applications.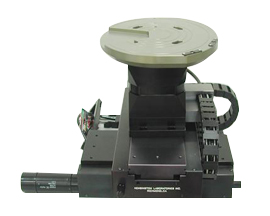 Description
Kensington's XYZ stages and rotary stages stages have addressed the needs for precision motion control, for more than a quarter century, semiconductor wafer stages and photonic device applications. In addition to standard products Kensington has delivered customized precision motion control designs for a wide range of applications.
Customized designs range from modifications of existing products to completely new designs and the integration of 3rd party components including quartz substrate and non-silicon semiconductor wafer stages.
Customization Examples
Modifications of existing product

Top plate redesign
Change of motor type or location

Unique integration requirements

100% Kensington Components
Blended component designs

Piezo Electric Stage integration
Stepper Motors

Z-Wedge for heavy payload applications

Customizes Sample Holders and Chucks

Shape requirements
Temperature requirements
Sensor requirements
Contact Kensington today to discuss your specific needs for customized precision motion control solutions and wafer stages